10 Days To … Create A Magnificent Marketing Machine
This course has been developed with our usual "no messing about" approach to business and it contains no fluff, no timid, floppy "hints" and no BS.
From busting the marketing myths to giving you over 200 of the best online and offline ways for you to market your business, we will give you everything you need to know to market your SME business, from the foundations up, and you'll learn it all in just 10 days (approximately 90 minutes a day.)
How Can This Course Help Me?
If you want to know the truth about marketing, not just some of that made up junk from the 1950's which gets banded about, then this is the course for you!
If you want marketing strategies which really work in the real world, then we've got all the answers you need here.
If you want to know why so much marketing is just pure BS and simply doesn't work, then this course is for you.
In this 10 Days To … Create A Magnificent Marketing Machine course we have started at the basics of marketing and worked our way up. We will explain why your marketing probably hasn't worked as well as it could in the past, and we will build you up to be a formindable marketing machine for the future!
As with all The Business Super Heroes courses, at the end of each day you will have exercises to complete in the workbook provided so you can implement the marketing techniques you will learn directly into your business, so you will start to notice the difference from the very start of the course.
Develop your knock-out marketing SYSTEM and never look back (apart from to wonder in awe at how far you've come.)
Day One - Introduction To Business Marketing
On Day 1 we start with a LOT of myth busting – from the very start of this course we will lay it out to you straight and tell you why most marketing for SME businesses simply doesn't work!
As soon as we get into Day 1 we will also tell you the biggest lie of them all … the #1 reason businesses advertise is the #1 reason why they shouldn't be advertising at all! We'll tell you why and what you can do about it straight away!
We will also show you many common mistakes business owners make and we'll even help you FIND THE TIME for you to set aside in your already busy business life to properly market your business.
Day 1 is all about helping you set up your marketing system and organise your marketing properly so everything gets done, when it needs to be done.
Straight from the off we are laying the foundations for you to build your ultra-successful marketing campaign upon.
Day Two - The Foundations of Marketing
On Day 2 we look at what you will need to have in place to be able to launch a top marketing campaign, from adding value to your services to adding credibility, from your guarantee to pattern interupt marketing. It's all here!
Why should your prospects buy from you and not from your competitors (and it's NOT because you say you're great … the prospect doesn't know that yet!)
On Day 2 we cover everything you need to know about running a highly effective marketing campaign "behind the scenes."
Day Three - Your Customers and Competitors
Day 3 is broken down into 2 modules:
In the first module we will look at your customers and why knowing them is so important. After all, you can't market to people you don't know well because you don't know what they want from you and what will appeal to them, do you?
Don't worry … as with all our courses, we will walk you through it all so by the end of this module you'll know your target customer very well indeed!
In the second module of today we will look at your competitors, and here, in particular, we will do a MASSIVE amount of myth busting when it comes to marketing and your competitors.
No matter what you have been told before, DON'T COPY YOUR COMPETITORS BLINDLY because most of your competitors are wrong … about everything!
We'll tell you why!
Day Four - Branding and Creating A UVP
On Day 4 we will look at 2 elements of your business which are designed to make you stand out from the crowd which is essential for your marketing to be a success, namely branding and creating a UVP.
Branding – You may feel like branding is just for the big players in business, but if you take the time to brand your business effectively you will look and "feel" like a much more professional, trust-worthy, unique and credible business.
Branding will change the way your customers look at your business, and it will also help with your positioning too, meaning it will encourage those people you DO want as customers to call you, but also discourage those you don't want to serve too.
In the second module of Day 4, we will look at creating a UVP – why should someone choose you over the comptition? What makes your business different from anyone else's in a vast sea of competitors? Just why should prospects choose YOU over YOUR COMPETITORS?
We'll help you find your edge over your competitors and market the heck out of it!
Day Five - Write Killer Ads
Today we will help you write incredible, super-powerful ads.
Whilst this is only a tiny snapshot of all the copywriting skills you will learn in our "10 Days To … Be A Copywriting Legend"  course, Day 5 gives you an insight into what copywriting skills you will need to achieve real success with your marketing.
Day Six - Social Proof and Influence Marketing
By the time Day 6 comes around, your mind will probably be like mush, but we have so much information for you we simply can't stop there!
Day 6 walks you through the various types of social proof you could use to add that vital credibility to your business … in fact, as you'll realise, we do talk A LOT about adding that VITAL credibility to your business.
Why use social proof in your business? Well, don't you read Amazon reviews? If a friend says a film is great, don't you want to check it out too?
This is what social proof is all about and it's super-powerful, so today we will give you many different ways to use it in your business to devastating effect.
The second part of today looks at Influence Marketing and we will help you answer the question …  Why should my prospects listen to me?
As a person of influence, people will seek you out rather than you chasing customers all the time! As a business owner it doesn't get much better than that, but you'll only get it when you have the power of influence behind you!
Day Seven - Offline Ways To Boost Your Business
Many SME business owners think they can't run a successful business if they just run an offline marketing system, but that's not true at all.
Sure, if at all possible you should try and implement an online and offline marketing strategy, but it's not the end of the world if you just run an offline strategy and you can still be very successful and profitable, so today we will give you many ideas which have been proven time and again to be effective ways to market to your customers.
Day Eight - Online Ways To Market Your Business
Today if the exact opposite of yesterday, in that we will have a look at the most effective ways to market your business online.
Today we will look at many online ways to get more business including Google (you may have heard of it?) and social media too.
As always we focus on what will probably work well for your SME business without going into real technical details.
Day Nine - After The Sale
When you market your business, you don't want to stop at the first sale. Why would you? Your marketing simply MUST continue after the first sale.
But what should you do or say? How can you encourage your prospects to come back to you? What marketing will stop your customers leaving you in favour of a cheaper price from your competitors who are trying to nab your customers?
We'll give you some cracking ideas on Day 9 of this course!
Day Ten - Your Marketing Bible
Today we include over 200 ways to market your business, along with brief descriptions of each and how they can be used to get more customers!
But, as always, we're totally honest; we know some ideas won't work for you. Some will take too much money or time to implement. Some will take too long to realise the profit from it.
The great news is all the ideas can be ranked out of 10 for the idea and the speed at which it can be converted into profit, and we'll show you exactly how to do this.
Once you have taken the low scorers out of the list you will still be left with many dozens of high quality marketing strategies you could use in your business which fit your budget and your timeframe to profit from them.
This is the most complete guide to marketing your business possible, and everything you can think of is here!
The Business Super Heroes Say …
Marketing is often thought of as some sort of dark art which can only be done by the elite, but, like everything else, it's simply just a case of knowing what the heck you 're doing, and in this course we will help you do just that.
Once you have fought through the fog of nonsense and BS you think you know about marketing, then marketing your business will be a breeze going forward.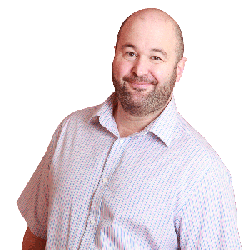 Paul Baker
Business Super Heroes
Have A Sneaky Peak At The Course Below …
You'll Love This Product … Guaranteed!