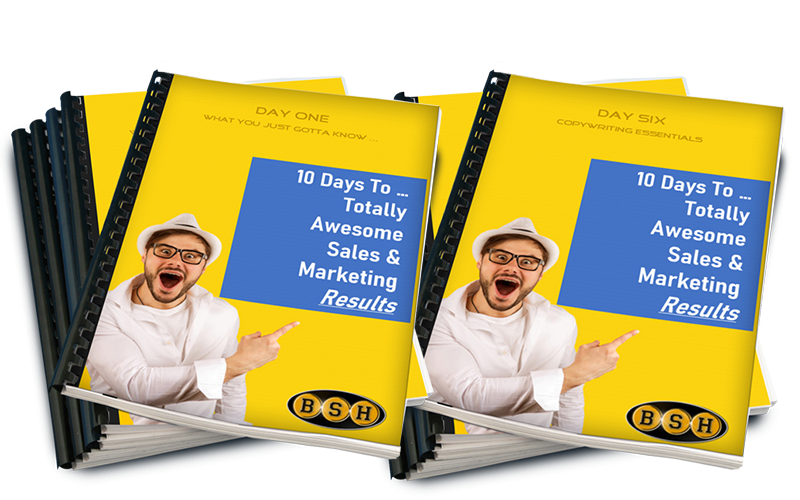 10 Days To … Totally Awesome Sales And Marketing Results
This 10 Days To … Totally Awesome Sales & Marketing Results course will show you the basics marketing, sales and copywriting too.
Whilst this course doesn't cover those subjects in anywhere near as great a depth as the main courses, this course will help you get started in each of those areas. 
10 Days To … Totally Awesome Sales & Marketing Results
If you want a great overview of sales and marketing for your SME business, this is the course for you. If you want to create a super-powerful marketing campaign and follow that up with a lot of extra sales, then you can't get better than this course!
In this 10 Days To … Totally Awesome Sales And Marketing Results course we have taken sales, marketing and copywriting back to basics, because to market and sell your business to prospects requires certain fundementals which we will go through in this course.
We also want to break down all the preconceptions you may have about sales and marketing and build up your skills based on business facts, not airy-fairy fiction. 
Whilst this course is nowhere near as detailed as our other courses which are specifically dedicated to each of the 3 subjects we cover in this course, namely sales, marketing and copywriting, this course will give you a good grounding in all those areas. 
This sales and marketing course gives you all the hints and tips you need to transform your business life forever.
As with all The Business Super Heroes business courses at the end of each day we have given you exercises to complete in the workbook provided so you can implement  what you learn directly into your business.
Day One - What You Just Gotta Know
Straight from the start we are tackling the ton of BS which exists in the business world (and believe me there is a heck of a lot of nonsense which is peddled by so-called business gurus!)
We jump straight into the deep end by giving you a grounding in branding, social proof and so many other hints and tips which will form the base layer of your marketing plan going forward, and we will also look at what you are really selling too (because you're not really selling carpet cleaning, windows, patios or driveways!)
We also start the process of laying the foundations for you to build your successful sales and marketing plans upon.
Day Two - 3M & UVP
Day Two is broken down into 2 separate sections:
The first section looks at 3M, the real secret to getting the best marketing results you could ever imagine. In fact, if you have ever had poor marketing results in the past then it will be because something in this formula is wrong, but get the 3M formula right in your marketing and you will transform your marketing success overnight! 
In the second part of Day Two we will show you why it is so important for you to stand on your own two feet, ignore what the competition are doing, and STOP doing the same fluffy BS everyone else is doing.
Day Three - The Fundamentals Of Successful Marketing
Here we start to look at building the best marketing campaign possible. No matter what kind of marketing you're doing, whether it's a website page, a flyer, sales letter or whatever, there are certain elements of marketing which apply to them all, like making your marketing interesting (which is a lot harder to do than it sounds!)
On Day 3 we will also look at your positioning, appealing to your target market, finding out what you target market really want from you, brand awareness, ROI and a ton of other tips to create a solid, credible, marketing campaign.
Day Four - Top Marketing Methods For SME's
On Day Four we look at 15 of the best online and offline methods to market your business as well as giving you ideas how they can be used and adapted to your business.
Most of the ideas listed will cost very little to implement but will give you a huge ROI (return on your marketing investment.) 
Day Five - Copywriting Fundamentals
Copywriting is your license to print money!
It's true … once you can write words that sell in a format which appeals to your target audience you really can start to count the money coming in.
Of course, whilst there are no hard and fast rules with copywriting because it is such a personal thing, getting results is ultimately all that matters. So, on Day 5, we will show you the guidelines about writing words that sell!
Day Six - The Headline
We have devoted a whole day to headlines because the headline is the most important part of any ad or sales letter. Period.
We will go through why the headline is so important in your marketing, as well as give you dozens of examples of cracking headlines and power-words which will really make your ad stand out and attract the customers.
Day Seven - Copywriting Contents
There are certain elements which an ad must contain, and those which an ad should contain. We will talk you through creating a cracking ad and what to put in it on Day 7 of this course!
We will talk about making offers which work (but won't cost you the earth) your use of images, content order and, most importantly, the personality of your ad and how it must match the tone and style set out in your branding.
Day Eight - Selling Basics
On Day Eight we will look at selling, or, more specifically, how to sell your goods or services for the price you want to sell them for. After all, anyone can sell their services for peanuts to lower end prospects, but that is NOT the way to get rich (unless your costs are properly managed and any extras are charged for!)
We look at up-selling, relationship selling, writing and developing killer sales scripts, as well as over a dozen ways to be able to better sell your services to the MAX!
Day Nine - Get Referrals Like A Pro
Referrals are the best way to get new business bar none, yet so few SME businesses have a written down strategy to get more of them.
IT'S JUST SO BIZZARRE!
We will help you develop your referral scheme from something you do every now and then to a scheme you simply cannot run your business without, and we will also talk about networking and strategic alliances too, bothy of which could easily double or triple your sales within a year!
Why not let others do your marketing for you?
Day Ten - After The Sale and Course Conclusion
Your job as a business owner STARTS after you have made the first sale, NOT ends there, so what more can you do for your customers once they have bought from you the first time?
How can you keep your new customers coming back to you every time and not the competition?
We will also wind up the course with a refresher of everything you have learned in the course, as well as asking you to analyze some ads yourself and improve on them.
We then have a quiz to test your memory of everything you have learned in the course, as well as some example sales letters so you can copy the format. 
Finally, we have listed many of the most common mistakes people make with their sales and marketing and how to avoid them, leaving you with a course which will become your sales and marketing bible for many years to come!
The Business Super Heroes Say …
This course aims to demystify the entire sales and marketing process.  As with all the courses from The Business Super Heroes we waste no time at all on the BS which is so prevailent in marketing.
Whilst these are nowhere near as in-depth as our other specialist courses, this course provides a brilliant overview of the marketing, sales and copywriting functions in your business.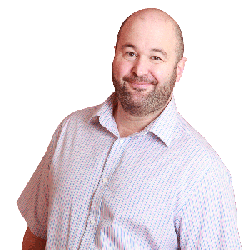 Paul Baker
Business Super Heroes
Have A Sneaky Peak At The Course Below …
You'll Love This Product … Guaranteed!
Other Titles You Might Like …