The Art of Persuasive Selling is the perfect answer for people who are uncomfortable with the whole concept of selling.
This book is designed to change your mindset about what 'sales' actually is and walk you through the 9 keys to using a customer-focused selling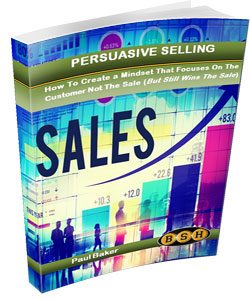 approach. With your new mindset towards selling, you will discover that it's a natural process to persuade customers to buy your products or services; no tricks or deception is involved, ever!
The Art of Persuasive Selling contains the following modules:
Introduction
Introduction to the Modern-Day Marketer 
Expertise – The First Key to Successful Selling
How to Put Yourself in Your Customers' Shoes
Good Selling Is about Demonstrating and Educating
Great Sales Copy without the Hype
Storytelling in Marketing – How to Tell Your Story
Social Proof – Why It Works and How to Use It
Freebies and Giveaways – The Power of a Gift
Triggering More Sales with Scarcity
Repetition and Marketing – Why It Works
Conclusion
Many of us have such negative thoughts and feelings about sales people but it really shouldn't be that way. As we said sales is just a natural process of the customer asking for a solution to their problems and you matching your goods or services to their needs.
That's it! No underhand sales tactics. No bullsh*t. No lying. 
You just don't need it, and in this book we will show you how to sell more and get more of those incredible and vital referrals into the bargain.