Product Name:
Pricing For Profit
"How to Ensure You Are Making The Most Totally Scrummy Profit In Your Business"
Short Product Description:
In this course we will show you why price really isn't the issue many business owners think it is.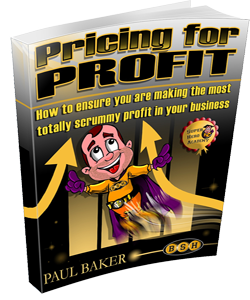 Details:
Pricing for Profit has been written because pricing is a pig. There's no getting away from it. If you're running any kind of business, whether selling products or services, one of the most nerve-wracking decisions you have to make is….
How much should I charge?
It becomes an even tougher question in any service based industry and even extremely established businesses that pay their money people mega bucks get it wrong, so how are you supposed to get it right in your business?
After all, if you price your services too high, you might scare away lots of "financially challenged" potential customers, but will likely attract fewer better quality customers. Conversely, if you set the price too low, you might be decreasing your brand's perceived value in the eyes of your target market AND leaving money on the table; that's money with your name on it.
Then there's all those different strategies you could implement. Payment plans, pricing levels, sales promotions, etc. Oh yes, my friend, the list of pricing options is very long indeed!
That's why we have put together our step-by-step course called "PRICING FOR PROFIT"
Pricing is one of the hardest elements you will ever have to work through in your business, and hundreds of businesses go bust every single day just because they are not pricing accurately … in other words they have gone bust because they have not been "Pricing for Profit."
Content Snippet:
Unsure if this product is right for your needs? Here is a little look of what you can expect:
Product Type: Course
Price For Non Members: £49.95
Price For Members: £19.99
% Saving For Members: 60%
Looks like you have entered a product ID (42) that doesn't exist in the product database. Please check your product ID value again!