Our Customer Service Excellence course will show you the essential components of superb customer service.
In any trade or profession, giving a superb customer experience is essential to your success. No matter how good a business you run, or how good your products or services are, if people won't use you because your service is terrible, then ultimately you have nothing and you will quickly go broke.
Providing the best service to your customers is one of the easiest ways to stand head and shoulders above your competition so you'd be a fool to ignore this course.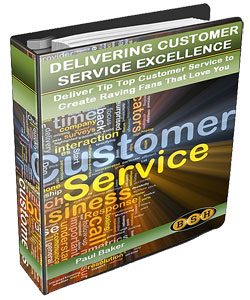 By the end of this 10-part training program, you will have completed your own Customer Service Manifesto outlining the guidelines and principles for serving your customers.
The "Delivering Customer Service Excellence" training program contains the following:
Why Quality Service Can Make or Break Your Business

What Does Good Customer Service Really Mean?

The 5 Components of Stellar Customer Service

How to Handle Customer Challenges

Creating Your Own Manifesto

The Mindset of a Customer Service Rock Star

The Biggest Customer Service Blunders and How to Avoid Them

Streamline Your Service with an FAQ

Is the Customer Really Always Right?

7 Tips for Delivering World-Class Customer Service
So what do you have to do to become the only person your customers want to talk to when they are looking for your products or services? You have to become sh*t hot at customer service! And I mean truly outstanding customer service and not just playing lip service to customer service like so many businesses out there!
With competition and the internet ready to steal every single customer from you, can you really afford not to take this course?
Looks like you have entered a product ID (9) that doesn't exist in the product database. Please check your product ID value again!